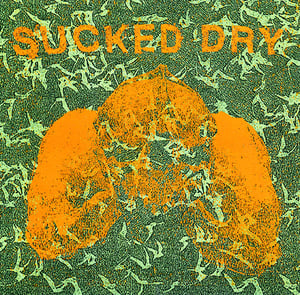 $

5.00
Second pressing of this mondo-EP. New "BUCKWILD" color palette on the sleeves & insert to unleash yr inner ~Gandee Candy~. Limited to 150 copies on BLAZE ORANGE vinyl. GIDDY UP.
After a long treacherous wait, the monster first EP is finally here from Kansas City's wildest gang of criminals SUCKED DRY. Five tracks of barbaric and wicked hardcore punk.
While taking hints from viciously primitive acts like RORSCHACH, CROSSED OUT & NEANDERTHAL, the six minute blistering assault will make ya sweat like a stinky stuck swine. A truly frenzied hardcore release.
Split release with EAT THE LIFE.